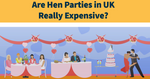 A hen party is a pre-wedding ritual in which bride-to-be enjoys a fun-filled night with her female friends. According to a survey, the cost of hen parties is too much to bear for the attendees. Every bride wants a great hen party. Many hens agreed that they have spent an enormous amount on the hen do of their friends and would never think of spending such a considerable amount on their hen party.
In the UK trend of foreign hen parties is on the rise, which costs a whopping amount. Not every friend is monetarily well-off to fulfill the wish of the bride-to-be to go abroad for the party.
Bride-to-be expects personalised bridal accessories to feel loved and special.
So, how can one save on the hen parties? Hen parties are supposed to be fun and chic, how can you achieve that without burning a hole in your pocket?
Here are some hen party ideas which are inexpensive but doesn't lack in the fun area.
The Hen Party Retreat
You can pick a rural location near the city away from the chaos. To save money, you can choose self-catering accommodation.
It is advisable to share the cooking and bring your own bottles of booze. It will save money on restaurants and clubs.
Make the most of the outdoors and engage in activities like paintballing, kite surfing, horse riding, etc. To make the hen party full of laughter, you can plan various games like "Guess who" in which the hens have to match a funny secret to the specific hen. "Frocky Horror Picture Show" in which pictures of bride's fashion faux pas is shown.
Sleepover
Go old school and choose for a sleepover. Relive your childhood with your friends before taking the big step. You can have a heart to heart chat over the sleepover with your close pals. To plan a sleepover hen party, choose a house, it can be yours or your bridesmaid's. Stock up with treats and good food. No hen party is complete without drinks, alcoholic as well as non-alcoholic.
Watch some girly movies together, or rent your favourite childhood movies which you and your girlfriends used to watch together.
A great sleepover is perfect if you don't fancy going to the clubs. It is not only cost-effective but relaxes your nerves before the D day.
Camping Hen Party
Don't want a hen party at home? Don't worry; we have something for you- A camping hen party! Yes, you have heard it right. A camping hen party offers both adventure and fun. Camping hen party needs a little preparation beforehand. Search for the perfect spot, have proper information about location and guidelines. To plan a budget hen party, inform your guests about all the supplies they need like sleeping bags. Bring your own food and drinks as there might not be plenty of shops nearby. Plan some games to make your camping night fun.
The Music Festival Hen Party
If you are somebody who loves music festivals, why not create a festival hen party for yourself? You can choose a sophisticated place to plan your own mini-festival. You will find luxury at an affordable price. You can make a festival ticket invites to make it look more authentic. Festival clothing for your bridesmaids will add to the charm of the party. Set a minibar and bring your own drinks. A playlist of your favourite songs, your favourite bands that you have been listening since childhood is a must to get the party started.
Pot Luck Dinner
If you love cooking, then you can host a dinner on your own, but if you are not a fan of cooking for more than eight people then go for "Pot Luck Dinner". It is a great idea for the brides who want to have a great hen party on a budget. Have a theme, like Italian, Mexican or continental. Ask every guest to bring something. Ask some of your friends to bring starters while others can bring the main course. Take help of your creative friends to garnish the food and set the tables. Involve everyone in "Pot Luck Dinner". It is especially good for the brides who like home-cooked food.
Cocktail Making Night At Home
Girls just wanna have some fun, right? A cocktail mixing night is perfect to have fun with your girlies at home. You just need few supplies like lemonades, juices, chopping boards, knives, shot glasses, measuring jugs, straws and little umbrellas for decoration.
How Can You Reduce Cost With Conventional Varsany Hen Party Gifts?
We have learned a few ideas on how we can reduce the cost of organizing the hen party. Now comes the gifting part. At Varsany, we have exclusive hen party gift accessories that are perfect for the bride and bridal party.                    
Our personalised bride dressing gown offer a luxurious feeling; they are made from super soft ivory satin material, trimmed with stylish chiffon. The bathrobes can be customised, i.e. you can choose what you want to be written at the back of your robe. You can choose the bathrobe for yourself and your bridesmaids for a sleepover hen party.
Bridal spa slippers add luxury and comfort. You can personalise them for yourself and your whole bridal party.        
Bride hats and brooch are perfect Luxury hen night gifts for the bride. 
Bridal Tote bags are a thoughtful gift for your bridesmaids to thank them for making your whole journey of becoming a bride memorable.