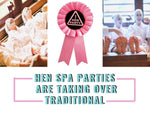 Have you been asked by your best friend to be the bridesmaid at her wedding? Are you all existed to do the honours? Get ready for going to fittings, excited wedding planning, and the big hen night. For people who have never organized a hen party and never been to one, planning a hen party can be a daunting task. It can be overwhelming to plan a hen party for a bride who hates all the typical hen party stuff. If you are in charge of planning an epic hen party this post is for you! To make the hen party memorable for the bride, always go for personalised bridal accessories for the bride.
For all the brides-to-be who want something unique and relaxing, hen spa parties are the perfect solution for them. What's better than a relaxing spa before you say "I do"? Spa's ease the body and mind of all the continuous wedding preparations.
Hen Spa Parties Are Taking Over Traditional Hen Parties
Many brides are opting for hen spa parties because they are a perfect way to spend some quality time with your friends while relaxing. Spa hen parties are best for those who want a wholesome experience. There are a number of spas in the UK which provide a luxurious experience. You not only get a good spa, but also champagne and snacks, based on your budget, you will also be provided with a full meal.
There are many brides who are ditching traditional hen parties and opting for unusual ways to celebrate with their friends. So, what are you waiting for, say yes to hen spa parties!
What Are The Popular Spa Treatments?
We are sure of one thing that you will love the whole experience of hen spa parties. If you want to pamper yourself and your bridesmaids, spa parties are the ultimate choice.
Let's see what you will get in a hen spa party
Massage
A relaxing massage is all you want after months of wedding preparations. A massage draws out toxins from your body and leaves you feeling fresh and energetic. Swedish massage and deep tissue massage are the most popular type of massage therapies available. A Swedish massage uses firm strokes and firm kneading. Circular pressure is applied by palms in this type of massage.
Deep tissue massage is done to reach the deeper layers of fascia and muscles. This type of massage is best for people suffering from body ache.
Aromatherapy massage uses essential oils, so if you are a fan of essential oils, go for aromatherapy.
Spa Facials
A bride needs to take care of her skin, right? Facials are best when it comes to rejuvenating facial skin. As a bride you want perfect and glowing skin, a facial helps to cleanse, exfoliate, and hydrates the skin, making it soft and supple. Facials promote a healthy complexion and help you look younger. After the massage, spa facial is the most popular spa treatment among ladies.
There are a number of facials available according to the need of the person. If you have dry skin, go for hydrating facials which help to increase the moisture level of the skin. If you are getting married in the winters, make sure to choose hydrating facials to restore the moisture level of the skin.
Source: Pinterest
If you have itchy skin, indulge in soothing facials. Soothing facials are the Holy Grail for itchy skin.
You will be spoiled with options when it comes to facials. There are anti-ageing facials, collagen boosting facials, oxygen facials, balancing facials, etc.
Major Tip – If opting for facials we highly advise doing your treatment a few weeks before as some people tend to have a break out in spots. Don't worry this is normal and your skin will be silky smooth after a few days.
Spa Manicure
Who doesn't love well-maintained hands and nails? A spa manicure provides deep nourishment to your hands and makes them look youthful.
A spa manicure takes more time than a regular manicure. If you want to experience luxury and comfort, indulge in spa manicure.
In a spa manicure, you will be asked to soak your hands in a manicure tray; mostly sea salt soak is preferred. The second step involves scrubbing, depending on the type of spa manicure, you will be provided with either sugar scrub or any other organic scrub. A spa manicure also involves a mask to provide benefits to the skin and at the end; massage cream is applied to hydrate the skin.
Spa Pedicure
Your feet must be tired from running errands for wedding preparations. Spa pedicure helps to take away the tiredness of your feet and make you feel energized. Steps similar to spa manicure are followed in a spa pedicure. In the end, you will be given a relaxing foot massage.
There are many spas in the UK which take your hen spa party to the next level. They not only provide great spa services but also give goody bags to you and your friends to take home. Some spas also arrange girly movies to watch whilst your mani and pedi.
Source: Pinterest
Hair Spa
No luxury spa service is complete without a hair spa. Hair spa deep conditions dry locks and make them look healthy and bouncy. A hair spa is a must in hen spa parties. Hair spas not only nourish your hair but help you to de-stress before your big day. If you want to strengthen your hair and stimulate the blood circulation in the scalp, choose a luxury hair spa.
You definitely don't want dull and dry hair on your wedding day. Hair spa nourishes your hair with vital oils so that they look well-hydrated and shiny.
What Can You Expect During Your Spa Treatments?
During your spa you will be provided with consultation and treatments will be chosen according to your concerns and skin type. Expect to have a relaxing experience.
You will be provided with a bathrobe, gown, and spa slippers for your spa treatment.
Arrange A Spa Hen Party At Home
Don't want to get out of the house for your hen spa party? Don't worry, you don't need to! You can have a tailored spa experience at home.
You can listen to your favourite music and watch movies with your friends at your spa hen party.
Do some decoration at home to give a luxurious feel to your bridesmaids. Order some snacks and booze to get the hen spa party started.
Hire Freelancers
You can hire freelancers to provide you with various spa services at home. Design the services that you want to indulge in. Look for spa therapists who are trained and well-experienced in the field. You can hire a masseuse (female massage therapist), a manicure and pedicure expert and a hair spa specialist for your hen spa party.
Check for reviews and testimonials online before hiring freelancers.
How Varsany Products Can Help You In Throwing A Hen Spa Party?
You are all prepared to throw a hen spa party at home, you have hired freelancers, decided the services you want but what will your bridesmaids wear during the spa? Varsany have you covered. You can order online your personalised items needed for hen spa parties.
Bathrobes
Order our premium and personalised bridal dressing gowns from Varsany. The bride robe can be personalised for the bride and the whole bridal party. Our bathrobes have sparky diamante's to make you stand out. We use high-quality soft ivory and satin material to make our bathrobes. Our bathrobes can fit sizes 8 to 16.
Spa Slippers
Satin hen party slippers will look cool and stylish. Match the bathrobe with Varsany hen spa slippers. These slippers can be used while getting ready on your big day. On the slippers, we have used ivory and satin along with faux fur. These slippers are personalised and best quality diamante is used on Varsany spa slippers.
Tote bags
Varsany tote bags can be given as a gift to your bridesmaids. These personalised tote bags look great with our matching bathrobes and slippers.