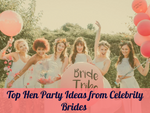 Are you looking for some inspiration for hen party ideas?
Well, you are in the right place! We've done some hard work for you to help you out with some unique hen party ideas that will take your excitement to the next level.
If you want that perfect blend of class and sass at your hen party, take a look at some of the best games and ideas to make your party going all night without getting bored for a second.
So once you are engaged, you must be overwhelmed to plan your hen party-those irresistible thoughts of hen party gift accessories, party venues, and much more. Well, the ideas which I 'm going to share will surely exude good times with your partners in crime. 
Escape in the rural vista:
Why not plan a rustic chic party in the countryside? It's a great idea to make sweet memories with your friends in a countryside tree house with the booze of cocktails, and tequila's all night.
How exciting it sounds! Well, it's up to you, which place you wish to visit with your favorite girls-there are a lot of options in the UK to make your party commendable.
You can also enjoy the most loved activities in London which includes cocktail mixing, moonshine salon, afternoon Tea bus and much more. Apart from this, your countryside stay will be the most remarkable one as it will offer a unique experience before you get into the vows of marriage.
Nothing is more attractive than the beauty of nature so why not spend some time in the lapse of nature with the bunch of your great friends.
Book your tickets to London's biggest musicals:
So after months of wedding planning, are you ready to get away from all this and enjoy some time with your closest friends?
Get a real treat with West end musical shows that offer you all the culture and will surely create incredible memories with your friends.
Plan a karaoke night:
Unleash your inner diva on a Karaoke night where you can sing your favorite songs all night! Your friends would love to join you on this crazy night so plan it out and enjoy.
Karaoke hen nights will be hilarious and fun when all the ladies out there will join the bride-to-be when she performs on her favorite tracks. So grab a glass of prosecco in your hands and shake it off to make your night memorable.
Plan some innovative games to let the party go on:
Games cannot be skipped over if you are going out with your friends. They add a lot of fun and entertainment to the day so make sure you plan some creative games that keep the party going. Some of the most played games in hen parties include toilet paper wedding dress game, how well do you know the bride, poetic hens, the best cocktail maker, and much more!
Plan your last night of freedom with signature living:
Why not make your freedom more fabulous with signature living- the ultimate destination for the party. The incredible city center, luxury suites, and top-notch bars will make your stay much more overwhelming to enjoy your last night of freedom to the fullest.
Plan a stay on Friday night that includes two-course meals with spa and breakfast included in it. So pamper yourself and make your day incredible by staying in such majestic places with your dearest friends.
Plan a fun journey on a cruise:
Book a night party cruise that is fully stocked with mocktails and cocktails along with some great DJs to make your party admirable.
It's something different from the land-based parties as you can enjoy a different yet fantastic atmosphere that will surely excite all the hens. You can dance all night and enjoy the refreshing air along the sea- sounds so wonderful! Isn't it?
Cruising under the moonlight with your favorite girls around, a glass of wine in your hand with your much-loved track, all this will definitely make the bride-to-be cherish these memories for years.
So these were some of the best hen party ideas to get an extraordinary experience before you tie the knots.
What about gifts? Stuck on what to offer your friends for that special treatment they've showered upon you? Here I've got something for you!
Let's see how Varsany can help you in your hen party gift ideas:
Shop some of the exclusive and personalized hen party gifts from Varsany, specifically designed to meet your hen party goals.
These gifts include the beautifully studded bride and team bride hats along with crystalline bride pin accessories. These caps are great for hen night outs that are styled with beautiful diamantes to give you incredible looks.
You can also change the size of these caps as they are provided with a snap clasp to let your hair slide out or drape down easily with no mess.
Well, you can also go for hen party satin slippers along with stunning bride bathrobes. Diamante's bride-to-be spa slippers will definitely make your hen party more interesting and catchy on your Insta or Facebook posts.
These slippers are made up of ivory satin and faux fur along with high-quality diamantes beautifully studded on it. Gift it to your favorite girls and pick a pair for yourself to click those attractive photos with similar dress up.
Bathrobes are the most interesting part of the hen party, so why not grab a nice bathrobe which is sparkling with diamantes scattered on it with great precision and design. It's a great gift idea for hens or bridal party. Do not miss on these as these robes will surely add glam to your beauty.
Other than this, the bridal tote bags, personalized cushions, crystalline makeup bags, and travel bags are some of the popular hen party gift accessories that will surely lift the spirits of everyone.