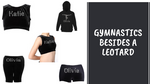 Is it your child's first gymnastics class and you are worried about what your child should wear on the first day? Worry not! You are in the right place; we are here to help you.
Leotard is regarded as a perfect gymnastic outfit, which is worn by girls in gymnastic competitions. Leotards are required in competitions as they allow the gymnast to display a full range of movement and they do not get caught on anything. Younger gymnasts love wearing leotards. Personalised leotards for gymnastics build the confidence of children and they can be recognized in a group of other gymnasts.
Besides leotards, there are other options available, which can be considered in the practice sessions. Some of these are mentioned below.
Gymnastic Crop Top
A gymnastic crop top is a perfect wear during the practice sessions. They give you the ease of flow and allow you to be comfortable in your practice sessions. Crop tops are perfect for class, gymnastics class, acrobat and yoga. Personalised velvet crop tops are soft and look good in any size. Also crop top makes you look taller.
Personalised crop tops are easier to recognize for moms in the laundry as well, which is an added benefit.
A smooth fit of a crop top not only looks good on a gymnast but helps her to concentrate on the practice as she doesn't need to worry about crop top getting caught in things.
Gymnastic Shorts
Gymnastic shorts can be worn with the crop top. Your girl can choose black, blue or pink personalised gymnastic shorts. Your little gymnast will look cute in the shorts which are personalised with handmade diamante. Shorts made from super soft velour are perfect for the soft skin of children.
It is important to wear the right kind of clothing in gymnastics as you don't want to get stuck in your clothes while doing a move. Shorts offer comfort during summer month training. Always look for shorts which have elastic on the waist instead of a drawcord.
Gymnastic Leggings
Who doesn't want a good pair of leggings? Leggings are a perfect piece of clothing to wear in your gymnastic session in winter months. They offer warmth and comfort. Leggings are stretchable, so when your daughter is performing those tough gymnastic moves, she will have the freedom of movement. You don't need any belt to hold them on and they don't dig into your skin. No doubt leggings will make your child look cool.
A basic black pair of leggings match everything. You don't need to worry about color coordination with black leggings. Leggings are lighter and don't hinder your performance and needless to say they are inexpensive. Personalised leggings will make your child look cool and trendy.
Personalised Gymnastics Hoodie
Personalised gymnastics hoodies are perfect to wear when you are waiting for your turn in the competition. You can get easily recognized in a crowd when you are wearing a personalised hoodie. Apart from that, you can choose diamante of a girl performing a handstand on the hoodie or a girl doing ballet dancing. Our hoodies look great just for casual wear around the home or for those cold winter walks.
You also have the option of choosing unicorn designs. Gymnastic hoodies should be chosen with care; the material should be light and breathable. They are best if you want something light on you before you hit the competition.
Why Leotards Are the Best Option
Leotards are the best option when it comes to gymnastic wear. Gymnasts are required to wear leotard when competing. A good leotard is a basic necessity for a gymnast to perform with ease. Quality leotards not only boost confidence but also make the gymnast look graceful. Gymnastic is physically demanding and it needs a special kind of fabric, which is light and at the same time durable.
While wearing a leotard it is impossible to trip on your own clothing; ill-fitting and baggy clothes are a strict no-no in gymnastics. Leotards are form-fitting; they fit like a glove. Leotards have become a staple in the gymnastics world; their sleek design allows complex body movement.
Personalised leotards made from super soft Velour and Elastic for the waist are perfect for gymnastics, ballet, and acrobatics. Personalised leotards with hand-made diamante look stylish on a gymnast.
It is important to invest in good gymnastics wear. Kids need separate competition uniforms and practice wear in gymnastics. There is always a chance of injury when the clothes do not fit nicely. It can prove hazardous when the equipment wraps in ill-fitted clothes. Besides, loose and baggy clothes make it difficult to see the movements of the gymnast. Gymnasts are not allowed in the competition if they are not wearing appropriate clothing.
Conclusion
No doubt wearing a leotard is necessary for a gymnastics competition. A good quality leotard is a basic necessity of a gymnast. Varsany provides personalised leotards for gymnastics which are made from super soft velour and elastic for the waist, which is light and comfortable to wear. Leotards from Varsany are made of velvet. Machine cut diamantes are used to make sure that you shall sparkle in the competition. Varsany leotards can be worn by girls for ballet, acrobat, and gymnastics.
Varsany is proud to say that our creative team hand makes your diamante name and apply it carefully. Varsany Diamante's are machine cut glass crystals, designed just for the gymnast industry. All our products like personalised leotards for gymnastics, personalised gymnastic shorts, crop tops, leggings, and hoodies are of top quality and can be personalised according to the wish of the client.