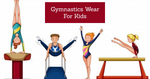 Gymnastics has grown in popularity many folds in the past decade or so. The success of the UK in the Olympics brought gymnastics to the forefront. Gymnastics is great for kids to improve flexibility, balance, speed, and coordination. Gymnastic equip kids to handle physical and emotional stress. Other than providing a good coach to your kids for them to learn gymnastics, it is important to equip them with proper gymnastic clothing. Gymnastic wears for kids like a leotard, crop top, personalised gymnastic shorts are important for the practice sessions.
Importance Of Proper Gymnastic Wear
Kids need practice wears and competition uniforms. Proper gymnastic wear is necessary to save the kids from injury; equipment can wrap in loose clothing and can prove hazardous. Therefore, it is important to exercise caution while selecting gymnastic clothes for children. Gymnasts clothing should be such that it is easier for the coach to analyze his/her form.
Here are Varsany products which will make your kids look cool in their gymnastic wear.
Black Personalised Gymnastic Leotard With Diamante's
What is better than a personalized gymnastic wear?
Varsany provides personalised leotards which are made from super soft Velour and Elastic for the waist. They are perfect for gymnastics, ballet, and acrobatics. The leotard can be worn for gymnastic practice as well as for competitions.
Machine cut diamante is used to make you shine. Great care is taken while hand making your diamante name. The diamante that we use is of superior quality; they are machine cut glass crystals.
The product is available in different sizes which will suit girls aged between 3 to 13 years. Black Personalised Gymnastic Leotard is tight and stretchy, which allows the gymnast to move freely. Our leotard is full sleeved and meets the competition standards. The black personalised gymnastic leotards is comfortable to wear and is stylish which will boost the confidence of the gymnast.
A good leotard helps the gymnast to perform with ease.  Varsany leotard comes with features like comfortable and easy to wear, fits like a dream and the fabric is light and soft. The personalized leotard will surely make you different from your competitors.
At Varsany, we understand that you want your product at the earliest that's why black Personalised Gymnastic Leotard with Diamante's will be ready within 24 hours of ordering and is shipped the next working day.
Black/Pink/ Blue Personalised Gymnastic Shorts With Diamante
Varsany shorts are personalized and can be worn to gymnastics and dance classes. They are super comfortable and will make you look cool. To add a personal touch we hand make your diamante name and apply it with hand.
Our creative team has designed these shorts by keeping in mind consumer needs. The shorts are made from super soft velour, and there is elastic for the waist to give comfortable and perfect support.
It is important to note that on personalized clothing we keep the first letter as capital and the rest in lower case. The machine cut diamante is specially designed for the gymnast industry.
These stylish shorts are available in two colours- black and pink. They are available for the girls aged between 3 to 13 years.
Black Personalised Gymnastic Crop Top With Diamante
The black crop top is perfect for gymnastics, acrobat, dance class and yoga. This super soft personalized velvet crop top can be worn to a practice class and as well as for a stage performance. The personal touch will boost the child's confidence. It will make your child stand out. The comfortable fabric gives a great fit.
Black Personalised Gymnastic Leggings With Diamante
Every girl needs a good pair of leggings. At Varsany we understand this need; that's why we have curated three-quarter leggings which are perfect for gymnastic classes. Super soft Velour and Elastic for the waist is used to make these leggings which fit like a glove. The leggings give you ease to move in any direction comfortably without worrying. They are perfect to wear for your gymnastic practice sessions.
Girls Black/Pink Hand Stand Crystal Personalised Gymnastics Hoodie
The personalized hoodie is available in black and pink color. It has a beautiful diamante of a girl performing a handstand. This hoodie is perfect for dancers, gymnasts and can be used as casual wear. You can also gift this hoodie on your daughter's or niece's birthday by personalizing it with her name. Machine cut glass crystals give a beautiful shine.
The material of the hoodie is soft; it comprises 70 percent cotton and 30 percent polyester, it has a double fabric hood and a front pouch pocket. We are proud to mention that our clothing is in line with European Childrenswear legislation. It retains shape even with continuous usage.
Girls Black/Pink Rearing Unicorn Crystal Personalised Gymnastics Hoodie
Who doesn't love unicorns? If your kids are a big fan of unicorns, then these black and pink rearing unicorn crystal personalized gymnastics hoodies are for them. These high-quality hoodies have a diamante of a rearing unicorn which is made up from glass crystals. Below the unicorn, diamante of your kid's name is hand made by our expert creative team. The hood is without drawcord and has a front pouch pocket.
Girls Black/Pink Ballet Dancing Girl Crystal Personalised Gymnastic Hoodie
Kids love personalised items! The "ballet dancing girl" hoodie will look cool and stylish on your kid when she will wear it to her gymnastic or ballet class. This hoodie can be worn on casual outings as well. The machine cut crystals will make your kid shine; your child will be easily recognized in a crowd with this personalised hoodie. The hoodie is available for the girls aged between 3 to 13.
Conclusion
Personalised gymnastic shorts, leggings, leotards, and hoodies increase the confidence in the gymnastics class. It is important to choose clothing which is not only stylish but is comfortable for your little gymnast. With so many options available for gymnastic wears for kids; it is important to choose the brand which delivers high-quality products.