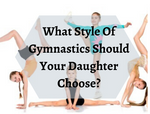 Gymnastics is an excellent way for kids to develop an interest in sports and understand the importance of hard work and determination. The sport builds confidence, increases strength, and flexibility. Gymnastics can be chosen by kids of any age.
All kids get inspired by looking at gymnasts doing impressive moves- spinning and twisting their bodies and that too under control. If your child is inspired by the sports of gymnastics and wants you to enrol her in gymnastics class, then this article is for you!
Gymnastics is a broad term that is used to describe a range of activities, which date back to 2000 B.C.
Now you are clear that your child wants to enrol in gymnastics but what kind of gymnastics? Yes, gymnastics has various types.
We'll discuss the various types of gymnastics so that it becomes easy for you and your daughter to choose the one she wants to be a part of. However do not stress on this matter as your child can try them all and make a decision later. It is all based on personal preference and which style she enjoys the most.
Women's Gymnastics
Women's gymnastics is the most popular form of gymnastics and has the most number of participants. Do you know that in the Olympics, tickets to watch women gymnastics sell out the fastest? Yes, people love watching women gymnastics. In women's gymnastics, there are different events: Floor exercises, uneven parallel bars, and vault.
Floor Exercises
In competitions, floor exercises routines last for up to 90 seconds. The routine comprises of dance elements and acrobatics. This form is perfect if your child loves to express herself through dance. Gymnastics leotards for girls is an ideal choice for your daughter.
Uneven Parallel Bars
Uneven parallel bars are also known as asymmetrical parallel bars. This gymnastics apparatus was developed in the 1930s and is used in women's gymnastics competition. It was first used in the Olympics in the year 1936. The apparatus allows a great variety of movements. The movements of the gymnast should be smooth, and there should be an equal use of both the bars in the routine.
Vault
Vault is an apparatus on which gymnasts perform. As in any other form of gymnastics, vault has a minimal margin for error. In vault, the athlete runs, take a pre-flight, gets in contact with the table, then there is post-flight, and the landing. It is an exciting event, which requires coordination, strength, and flexibility.
Rhythmic Gymnastics
The next type of gymnastics that your daughter can choose is rhythmic gymnastics. It is a women-only event. In rhythmic gymnastics, the gymnast performs on the floor with ribbon, hoop, rope, clubs, or ball accompanied by music. It can be an individual as well as a group event. Rhythmic gymnastics has elements like classical ballet and the German system of apparatus work to develop muscles and also the Swedish method of free exercises for developing a rhythm. Rhythmic gymnastics was integrated into the Olympics games in the year 1984 in Los Angeles.
Acrobatic Gymnastics
Acrobatic gymnastics is a part of the International Youth Olympics Program. In this type of gymnastics, gymnasts work in partnerships and perform acrobatic moves set to music. Under acrobatic gymnastics, there are three types of routines, namely a balance routine, dynamic routine, and combined routine. There are a number of complicated moves that are performed in this type of gymnastics. Athletes are the equipment in acrobatic gymnastics; they perform handstands, balance on each other, and are thrown and caught by the teammates.
Trampoline
Back in 2000, the trampoline was added and recognised as an Olympic event. In this event, an athlete performs acrobatics on a trampoline. In a synchronized event, 2 athletes perform simultaneously on 2 different trampolines. Athletes perform gravity-defying tricks on the trampoline. Trampoline is also used as a recreational activity for many.
Power Tumbling
Tumbling is a gymnastics discipline, in which somersault skills are used on a 25 meter long sprung track. The athlete performs tumbling passes, consisting of 8 elements. Power tumbling requires strength and coordination, spatial awareness to perform the tricks properly.
Gymnastics Clothing Selection
Now the question arises - what kind of clothes should your daughter wear in her gymnastics class? Well, you should go with a kind of clothing that is comfortable and helps perform her better in her class. If we talk about gymnastics wear for girls, there are numerous options available. Following are some of the trending and evergreen gymnastics wear that will not only be comfortable but will also look fabulous on your daughter:
Personalised gymnastics leotards
Girls gymnastics shorts
Personalised gymnastics t-shirt
Personalised gymnastics hoodie
The above-mentioned product categories are not only great for gymnastics class but can be used in ballet,
Below we are listing the benefits of personalised gymnastics clothing; you will get to know why it is important to choose personalised clothing for your daughter for her gymnastics class:
Elevate the Confidence
Personalised gymnastics clothing raises the confidence of gymnasts. If a gymnast is not comfortable in her attire, it will affect her performance. Personalised gymnastics leotards for girls is an excellent way of raising the confidence of your daughter. When a person is confident, the body language of the person reflects that confidence. Give a confidence boost to your little gymnast with personalised gymnastics clothing; you will see the positive impact on your daughter's performance. When an athlete is confident of her attire and feels comfortable in it, her fear washes away, and she does her best in the competition.
Ease of Performance
Can anyone perform well in uncomfortable clothing? What if your child hates her attire? The performance drops when the gymnast doesn't feel comfortable in her attire. The right attire enhances the expression of the moves. It is essential for gymnasts to move freely, and it can only happen if the clothing is comfortable. When you choose personalised gymnastics leotards, they are not only comfortable but look stylish as well. You will be able to recognize your daughter from the sea of other gymnasts in the fraction of second. When the clothing is not of the right fit, it can cause disruptions in the performance. The right clothing is essential so that judges can see the moves clearly. You can ask the top athletes how important the right clothing is to boost confidence and to perform freely without any trouble.
Helps in Focusing
Right clothing helps you not to lose focus. Yes, that's right. Ill-fitting gymnastics wear causes problems for gymnasts. When your clothes are not correct as per the competition, you feel conscious, and gymnast loses her focus. Apart from that, when the clothes are ill-fitted, the gymnast may trip trying to adjust the clothing. Proper gymnastics attire fits like a glove; their sleek design allows complex body movements. Proper attire not only helps a gymnast to perform better but also looks stylish. Right attire becomes the second skin, and gymnast doesn't feel any restriction in the movement due to her clothing.
In the practice sessions, your daughter can wear girls gymnastics shorts, a t-shirt, and personalised gymnastics hoodie if it is cold. Having the personalized name on the garment helps other kids remember your daughters name very easily whilst she sparkles. Great way to get on first name basis with a large class of kids.
Conclusion
There are many types of gymnastics that your daughter can choose, such as floor exercises, uneven parallel bars, vault, rhythmic gymnastics, acrobatic gymnastics, trampoline, and tumbling. When it comes to gymnastics, it is vital to choose the right kind of clothing so that your little gymnast can give an outstanding performance.