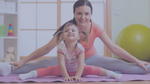 Every parent wishes the best for their children. Parents want to see their children thrive in practically everything: studies, arts, and sports. Apart from learning and hard work, motivation plays a crucial role in building the confidence of a gymnast.
As parents, you can help your little gymnast build the confidence to perform tough moves. Gymnastics is a demanding sport, and when your kids are starting out, it is essential to give them motivation. The encouragement of parents goes a long way in building the future of your child in gymnastics. Motivation need not be verbal; parents offer personalised gymnastics clothing to encourage kids to attend gymnastics classes, which is a great way to motivate them to attend gymnastics classes.
Here are some ways in which parents can motivate their little gymnast:
Start Small
Initially, your child may feel overwhelmed and lose motivation. As a parent, you should not overburden your child. Always start small. Have one or two classes per week, and gradually build it up. If you enroll your child in daily gymnastics classes, it may be too much for her or him. Therefore, it is best to start small and let the child explore the sport.
Get Her Proper Clothing
You should choose correct gymnastics outfits for kids. In the absence of appropriate clothing, your child may feel uncomfortable in performing certain moves. Loose and ill-fitted clothing wrap around the equipment resulting in injury. For practice sessions, you can choose girls gymnastics shorts, personalised hoodie gifts, etc. You can buy a personalised leotard for your daughter as well, which is a must-have gymnastics wear.
Keep It Fun 
Keep gymnastics fun. Avoid pointing out the mistakes to your child; coaches can help rectify her moves. Listen to your child's gymnastics session stories, address her fear and frustrations. It is essential to listen to your little gymnast with patience. Ask questions; make it interactive.
Do Not Pressurize Your Child
Never pressurize your child into doing more. It is not a great idea to always ask your little gymnast to push her limits. Instead, help your them in finding joy in gymnastics. Your child will continue the sport if it is fun for her.
Be Careful Of Comparison
Parents tend to compare their children with others. As a result, children lose confidence. Every child is different. Your child will learn at her own pace. Don't show disappointment if your child is having difficulty in learning a particular move. Don't force your child; let her enjoy the process of learning gymnastics. Celebrate when your gymnast learns a new move and shows improvement; you can offer her gymnastic gifts for girls  to boost their spirits.
Nourish Your Athlete Well
It is crucial to nourish and hydrate your gymnast. The nourishment that you provide gives her the energy for the demanding workout and also helps in recovery. Nourishment and hydration keep the gymnast away from injuries. Make sure your gymnast gets a well-balanced diet and hydration throughout the day.
Adequate Rest
Your gymnast should take sufficient rest. It is difficult when your gymnast attends school. She has activities in school, has to do her homework, and attend the gymnastics class. Do the best you can do. Make sure she goes to bed early and let her catch on sleep on weekends.
Pay Attention to Physical and Emotional Health
It is mandatory to pay attention to the physical as well as the emotional well-being of your gymnast. In the case of chronic pain, take her to the doctor. Follow the prescription so that your child can enjoy gymnastics without any problem.
Check-In With Your Gymnasts' Coaches
You can check the progress of your child with her coaches. You can ask any queries and share your concerns. You can ask the coaches if there is anything you could do to support their work.
Understand That There Will Be Mistakes
Children make mistakes. They stumble and get up again. Don't expect that your child will become the best gymnast in a few days. Some children are naturally athletic, while some take time to build the ability. It is normal. Give your gymnast time to learn and to grow. All children have different strengths and weaknesses. It doesn't mean that your child is not up to the mark. One child might be exceptional in the vault but not good on bars.
On the other hand, your child might be great on bars and a little behind in vault. Every piece of apparatus has different physical requirements. Therefore, there is no point in comparing your gymnasts with others.
Don't Make It All about Winning
Don't set unrealistic goals for your gymnast. It is great to encourage the child, but don't make it all about winning. Sometimes you win, and sometimes you lose; it's all part of the game. Your child will learn many valuable lessons, like discipline, teamwork, consistency, dedication, and so much more. Your child will learn never to give up; she will realise that hard work pays off when you will do something with consistency; you will become better in it.
There are challenging days, tough moments; acknowledge the rough days, and motivate your child never to stop trying. These skills won't only help your child to become a better gymnast, but also help them in school and university and also make them a better human being.
Keep The Other Parts of Your Kid's Identity Intact
When your child is involved in a single activity, it becomes the only thing he or she is solely focused on. Make sure to maintain a balance between your kid's other activities and gymnastics. Maybe your child is interested in painting or singing; make sure to explore these areas as well. Keep in mind the interest of your child while choosing any activity for her.
Final Words
Gymnastics require a lot of hard work. Keep motivating your child and make the sport fun. Involve yourself, see her practicing, praise her skills, and encourage her when a particular technique is tough for her. Buy personalised gymnastics outfits for your gymnast to boost her confidence.